Little Miners Falls. The path to this waterfall is by Potato Patch which is an OK campsite though not my favorite.
Thunderstorms rolled on through our camp last night. I don't think they brought all that much rain but they certainly provided us a good sound and light show. Come morning we woke to overcast skies and a dampness in the air that made things feel a bit more chilly than they probably had any right to be (unlike the first day when at times the nip in the air felt like the chill you notice coming off a big patch of snow). People left camp in the usual staggered fashion with Nancy, Tim, and Doug leading the way. I wonder if Doug got up at his stated usual time of 04:30 and waited for the rest of us to stir at more reasonable hours (i.e. when the sun was actually shining or at least causing the sky to be well lit). Gail also left earlier than the rest of us and Matt and Jen left just before (I think) Joni, Andy, Elwira, and I did (or maybe they left with us and soon left us behind - it doesn't really matter). As I said above the air had a slight nip to it: full of moisture and feeling like rain. I think we all started out wearing raingear at least as much for a bit of extra warmth as for its proper purpose of warding off rain (which never came). It wasn't long before everyone had warmed up enough to discard the raingear and it was becoming clear that though the day felt moist it wasn't going to rain.
We strode on along the clifftops through the forest of pine and other trees (It felt like it was a bit different forest than yesterday) and we fell into an easy hiking rhythm that soon propelled us to the area by Potato Patch and Little Miners Falls. This waterfall is down a somewhat steep and narrow path past some lovely sandstone rocks that bulge out in interesting curves. The fallls were flowing well, like so many other waterfalls have been, and I am glad Andy showed them off to me. We continued down the onerous descent from Potato Patch (the worst of the day) down to the nearby road and then to the beach that is near Miners Castle. It was here that we found Gail waiting in a slightly sour mood. The reason for her mood was obvious: a couple people were camping on the beach. Worse they had made a campfire. Both are expressly forbidden but it is the campfire that really is irksome because it will leave a more permanent mark. People should know better.
Top left: Andy and Elwira on the beach near Miners Castle (photo by Gail Staisil). The beach experience was marred by the campsite that had been made and was still present when we came by around 10:00. It was a nice beach though. If you use tour imagination perhaps you will spot Bridal Veil Falls on the sandstone cliffs in the panoramic photo. I never could see the tiny waterfall.
From the beach some were able to spot the elusive Bridal Veil Falls which is only rarely flowing this late in the year when it is very wet. We pushed on along the beach (Joni took the trail) towards Miners Castle. Hiking in the sand is never an easy task and when you are trying to avoid being swamped by Lake Superior as you walk the slightly firmer sand by the surf line it gets tougher still. But I am glad I was walking the beach. It just felt like a nicer way to go than the trail at this point and certainly was nicer than the last bit of trail we had to eventually take to get to the picnic area and gift shop at Miners Cstle. We found Tim and Nancy there having spent their time having a bite to eat and taking in the views. We settled down to do the same and use the restrooms (flush toilets, man!). After spening close to an hour there we hefted our somewhat lighter packs for the last four mile push on to Sand Point.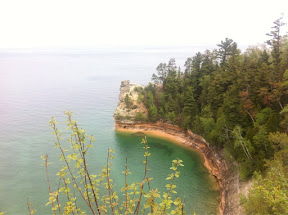 Even though the castle is down to a single turret it is worth walking down too by this time the sun was beginning to drive the clouds away and the tempersture was soaring into the upper 70s.
The weather by this point had cleared to a partly cloudy sky and the temperature had definitely risen well into the 70s. We paused to take pictures of the now smaller Miners Castle. A few years ago one of the turrets came crashing down. I guess the siege engines of water and wind finally took there toll. The castle has one turret now and doesn't look nearly as castle-like. Though I did not see it a deer was climbing the rocks of the castle to get goodness knows where. I think that may have been the first deer seen on the trip. We had heard coyotes the very first night at Seeney and again off in the distance not long before sunset at Mosquito Beach. We heard a solitary loon once too as well as many gulls of some type the last two days.
The western part of the trail did not want to be outdone by the eastern end so we encountered wildflowers again. Mostly trilliums and Forget-me-nots but I am told we passed Jack in the Pulpit and other flowers too. One way these last four miles really outshone the rest of the trail was the amount of sucking mud to be dealt with. I had said that yesterday had plenty of this type of mud but today was worse. Just before arriving at Miners Castle, a little after the big ascent from the beach to the cliffs, I totally lost my footing on a patch of slick black mud. My feet went out from under me and I fell back and down on my back and butt. I was lucky not to slam my head on anything. Funny to watch for Gail but not so good a feeling for me. Probably less damage was done though by this fall than the one I took yesterday that has definitely resulted in a bruise and a knot of stiffness. Dodging the sucking mud under the even warmer sky was a bit draining. While the forest itself wasn't bad I wouldn't have minded getting some additional last views of Lake Superior.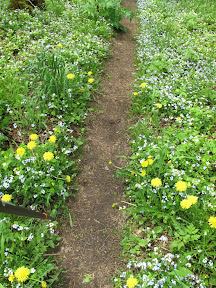 Just some of the wildflowers we saw between Miners Castle and Sand Point. This stretch of trail was gull of sucking mud sections and would have been far worse had it not also sported many boardwalks. -photo by Gail Staisil
Andy and I trailed Elwira, Joni, and Gail for quite some time but eventually we found them at a rest spot that we decided wasn't quite good enough. We marched on a bit farther to a ridge where a breeze could be felt and water was readily available should we want it. That breeze was lovely against our sweat stained backs. It was a good spot for a short break. We figured we had about 1.5 miles to go and it was just coming up on 14:00. We had left Miners Castle a little after 12:00.
As we slogged through more sucking mud holes and across sometimes slippery boardwalk the skies began to change. With a degree of suddenness that was a bit surprising the temperature plummeted and the winds picked up considerably. I would not be surprised to learn the air temperature dropped 20 degrees. We scurried, well as best as I can ever scurry, down wooden steps to an overhanging rock formation to take shelter from what we feared was going to be a raging storm (some want to call it a cave; a very shallow cave). It turned out to be just wind which I am sure we were all quite thankful for (we learned later from Nancy and Tim who were just arriving at the car park at Sand Point that the winds were really whipping the trees about and pushed the waters of Lake Superior in quite a ways from their normal resting place). It was coming up on 15:00 at this point and we had less than a mile to go. Andy pulled ahead with the rest of us trailing to various degrees. Joni was really feeling it in her ailing foot but with wonderful help from Elwira she pushed on, always positive though clearly not at anything like 100%. Just before 15:30 we arrived at Sand Point with the temperature still much cooler than it had been a half hour before though the winds had subsided. The hike was over and even with the few foibles of sucking mud, aches from unexpected falls, a wounded foot or vagrant headache everyone had a wonderful time. I think our group worked pretty well together and I think Andy did a fine job keeping us together and aware of what was going on. He deserves plenty of praise for doing what it took to make sure everyone finished and finished happily. Of course it helped that the participants were easily pleased. I am sure we would all return given the chance to do so.
-- Post From My iPad